A huge thank-you to those who signed up to volunteer at the Fete in the past 24 hours.  We are down to ~80 open volunteer positions, which demonstrates what an amazing community we live in!
But, we have to ask one more time….
Sign up for a 2 hour shift before 3pm today.  Man a bouncy castle, help decorate cookies or cheer on the kids at the toilet toss!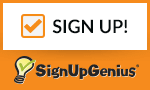 And don't forget we also need:
BAKE TABLE:
Bring your nut-free goodies: squares, cookies, cupcakes and other delectable treats.  Gluten-free also welcome.  Please drop off  at the academic storeroom on Friday or bring to the gym by 9am Saturday morning.
WINE RAFFLE:
Pressed for time? This is a great way to make a Fall Fete contribution. Simply drop off a bottle of wine at the school office. Bottle donations will be accepted until Friday evening.
Any questions, please contact us at Fall Fete
Thank-you,
Fall Fete Co-Chairs,
Olivia Burgess & Nancy Collett