Volunteer Update:
We need these positions filled by 3pm today or we will be cancelling the following Fete activities:
Hi-Striker
Toilet Toss
Ring Toss
Bean Bag Toss
Hair Chalk
This is the majority of our games and historically some of the busiest activities at the Fete.
Chez Howard is also in desperate need of servers and helping hands to clean up.
Please help us keep these activities open. Sign up now.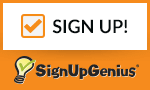 Thank-you,
Fall Fete Co-Chairs
Olivia Burgess & Nancy Collett