We still need close to 100 volunteers to run Fall Fete. Please consider signing up for a 2 hour shift or we may have rioting children on our hands when they arrive at Fall Fete to see this:
At this time we still need volunteers for the following activities:
All Bouncy Castles
Cookie & Pumpkin Decorating
Baseball Bowling & Hi-Striker
Toilet Bowl Toss & Mini Putt
And we can't forget Chez Howard!  We are still in need of many helping hands to feed the masses.
Please keep in mind this is a primary fundraiser for Howard.  It typically raises over $20,000 and funds many of the "extra's" that our kids love and benefit from at Howard.  If we cannot get volunteers for these activities by 3pm Friday these activities will not run.
Please sign up today so we can make this event a huge success!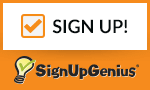 Thank-you,
Fall Fete Co-Chairs
Olivia Burgess & Nancy Collett