As you prepare for Thanksgiving celebrations this weekend, please think about Fall Fete. The Fall Fete is only ONE WEEK AWAY – Saturday, October 13th 10am to 2pm.
Here's a recap of what we need:
BASKET RAFFLE
One of the highlights of the Fall Fete is our Basket Raffle. It takes a lot of time to organize and assemble the baskets and we need donations as soon as possible.
Please, if you are out shopping this weekend, think about picking up a few new items for the baskets.  Here are some ideas: gourmet food & kitchen items, health & exercise, home spa and beauty items, gardening, and items for a movie night or a rainy day.
You can drop these items off in the basket outside the Office (the sooner, the better).
WINE RAFFLE
Heading to the LCBO for weekend provisions?
Plan to pick up an extra bottle of wine for the Fall Fete Wine Raffle.
Last year's wine raffle raised over $2,000 for our kids!
Drop off wine donations in the school office any time from now until Friday, October 12th.
FISH POND
Make a reel difference! Tackle your annoying toy clutter!
Cast out your small unbroken items for the Fall Fete Fish Pond. Think about items no larger than a deck of cards, things that aren't broken and please no plush toys.
Just one week left to help bait our Fish Pond hooks!  Our donation tackle box is outside the office.
BAKE TABLE
While you're in the kitchen this weekend preparing turkey feasts, please think about what you might whip up to donate this year for our bake table. Baking is a great activity to enjoy as a family!
Drop off your nut-free goodies in the nurse's office across from the music room on Friday night (October 12th) or Saturday morning (October 13th) before 9:00am. Gluten free offerings are also welcomed!
CAKE WALK
Our oh-so-popular cake walk needs your nut-free cakes! Drop them off outside the office by lunch time on Friday, October 12th. We're looking for the most creative cakes ever! Go scary, go beautiful, go wild, some fantastic prizes will be awarded!!  Cakes will be judged by Alison Fletcher (from Cookery on Roncy).
Sign up for a shift and recruit your neighbours. It takes an army of 250+ volunteers to make the Fete magic happen. Please sign up for a shift to keep this event running like a well-oiled machine.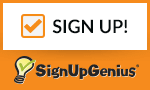 Any questions, please contact us at fallfetehoward@gmail.com.
Thank-you.
Fall Fete Co-Chairs,
Olivia Burgess & Nancy Collett