Planning is well underway for another FANTASTIC Fall Fete on Saturday, October 13th 10am-2pm.  We can't wait.  You can expect some of your old Fete favorites like the cake walk and the haunted house, but we are adding some excitement this year and you won't want to miss it! 
A reminder that Howard is a Platinum Eco School so the  Fall Fete will continue to be Eco Friendly this year. We encourage you to bring your own water bottle, or purchase a Howard Spirit water bottle at the Fete. 
Thank-you to those who have already volunteered through Sign-up Genius.  
We still need many more volunteers to ensure the Fete runs smoothly.  Grab a friend and sign-up for a shift together, volunteering at the Fete is the best way to catch-up with all the fabulous Howard parents you haven't connected with in a while!
So sign-up….PLEASE.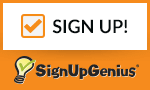 Thank-you from the Fall Fete Co-Chairs,
Olivia Burges & Nancy Collett